On September 24 at our general membership meeting, nominations for the vacant co-president position were presented by Nomination Committee co-chairs Nina Gonzalez and Sonia Talbert.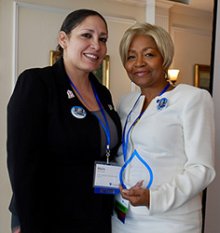 There were initially four names proposed for consideration, and only one accepted as follows:
Marta Shepard-Accepted (at right with Co-President Shellye Davis)
Nina Gonzalez-Declined
Sonia Talbert-Declined
Carmen Pepin-Declined
A motion was made to close nominations, which was seconded and was carried. No members opposed the nomination so one ballot was cast by union Secretary Tracy L. Carter for Marta Shepard for Co-President.
Let's all welcome Marta to her new leadership role!